ANLET Blower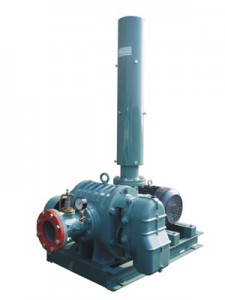 Features
There are plenty of features to look at, like the three-lobes blower with helical casing offers a virtually no noise, no vibration operation. The most impresive feaure is that there is no oil mixing, so the air obtained is clean, with no spraying of oil mist to soil the environment, but how much does it cost to replace an oil pump if this oil system ends up failing? 
A few other features are:
The rotor and shaft have been combined as a single unit and because there is no wear and tear performance.
Heavy duty and durable applications possible.
Design is simple and compact. The special bearings ensure outstanding durability and maintenance is easy to conduct.
The unit is equipped with a gear oil overshooter, to prevent any oil leakage problems.
The device can be used in conditions ranging from strong vacuum to high pressure.
Surface submersible types have been produced to meet required application.
Small quantities of slurry or water mixtures do not adversely effect the blower.
Strong vacuum possible even with wet type, much less water required.
Normal Pressure Ranging – 0 ~ 80kPa
Bore size available: 20mm ~ 400mm
Application of Blowers
Water Treatment
Used for water purification at the water treatment plant and stirring of sediment.
Incinerating
Enhance combustion and assist elimination of exhaust gas.
Composting through fermentation of cattle excrement
Advancing the speed of fermentation of cattle excrement by blowing air to it to produce compost.
Dewatering
Blower off surface water.
Aeration
Used for supply oxygen to the water in the aquafarm pool of various fish and for stirring.
Sand Blasting
Provides a concentrated blast of air for sand blasting.
Press machinery
Used for removing pressed from material from the mold.
Pneumatic Convenying
Used for pneumatic transport of pellet type material such as vinyl chlorine and polyethylene. (Suction method also available)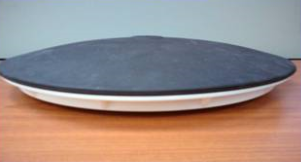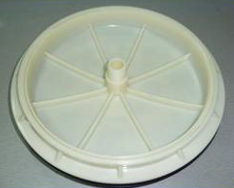 Application
PAD – a PUMPEN branded series bubble diffuser are mainly applied in treatment of water from:
Municipal sewage and industrial activated sludge
Aeration of sludge when nitrification and denitrification are necessary
Aeration of grease and grit traps equipments
Drinkable waters
Other industries such as dyeing, pharmaceutical, paper making, petro-chem, leather, brewery, aqua-culture and other industries
And for other uses like:
The increase of oxygen concentration of rivers and lakes
The oxygenation of fish farming ponds
A research program has been made to optimize the essential parameters of air diffusion through a flexible membrane.
Advantages & Technical Specification
With built-in check valve
Arch design with special EPDM to minimize sludge deposit and to reduce clogging
Brand: PAD
Type: Disc Type 300mm (ABS)
Supporting plate of diffuser:

Material: ABS
Shaping method: single-injection

Connection with pipe system:
Parameters of main parts of diffuser/membrane:
Technical Parameters
Materials:
| Item | PAD-300mm (12') |
| --- | --- |
| Working oxygen volume (Nm3/h) | 0 ~ 6 |
| Recommended oxygen volume (Nm3/h) | 6 ± 1 |
| Bubble size (mm) | 0.8 ~ 2.1 |
| Service area (m2/piece) | 0.65 ~ 0.95 |
| Oxygenation dynamic efficiency (kgO2/kwh) | 8.5 |
| Oxygen transfer efficiency (kgO2/kwh) | 0.45~0.75 |
| Oxygen utilization ratio (%) | ≥ 30 |
| Drag loss (mmH2O) | ≤ 300 |
| Membrane Material / Tray Material | EPDM / ABS |
Tube diffuser also available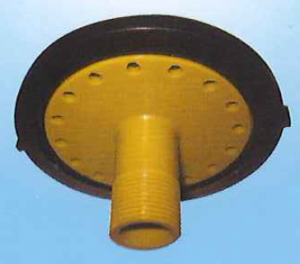 The HYDRO-CHEK air diffuser is the result of an extensive research and development program. It combines simplicity of design and operation with quality construction to provide efficient, economical and trouble-free aeration throughout new and existing water treatment systems. The Patented 'down-flow' design puts air flow orifices in the diffuser body, not in the air check diaphragm. It also preserves the diaphragm's structural integrity for significantly extended diaphragm life and eliminates the problems caused by sediment that could otherwise settle in diaphragm orifices. This down-flow design also maximizes the shearing of the air bubbles as they emerge from the orifices and turn upward around the perimeter of the diffuser. The HYDRO-CHEK air diffuser uses the positive action of the flexible air check diaphragm to prevent backflow. The diaphragm distends during aeration to allow air through the diffuser body orifices. When the airflow is stopped the diaphragm instantly contracts and is force seated against the diffuser body by the water pressure in the tank. In this closed position, liquid backflow is prevented from entering and clogging the diffuser or air manifold.
Technical Specification
| Maximum capacity | 12 CFM (20.4m³/hr) |
| --- | --- |
| Diameter | 100mm (4') |
| NPT Threads | 3/4" |
Materials
| Body | Celcon plastic |
| --- | --- |
| Diaphragm | EPDM-base rubber |
| Retaining Ring | Polypropylene plastic |
SURFACE AERATORS
Aeration systems perform two functions simultaneously:
Stir the effluent correctly in order to maintain the solid particles in suspension and to ensure proper homogenizing of the medium
Provide the necessary oxygen to the effluent to be treated.
Low Speed Surface Aerators – OPTIMUM OXYGENATION AND STIRRING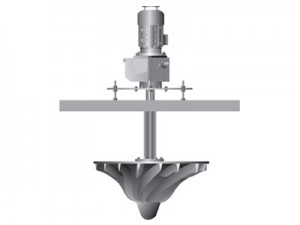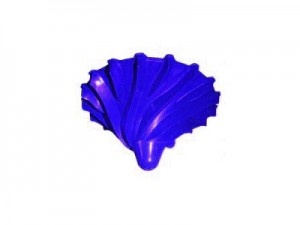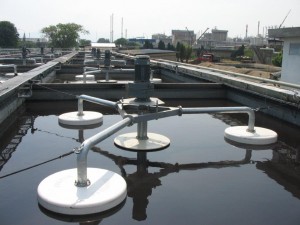 The low speed aerator designed for optimum stirring and oxygenation of sewage water is particularly used in fixed version
The solidly-built components have been selected to guarantee a long life with a reduced maintenance.
The solidly-built low speed turbines consist essentially of a rotor attached to a geared-motor by means of connecting shaft. Thanks to a flask incorporated into the geared-motor, the whole unit can be fixed on a concrete walkway or a metal framework.
Oxygenation efficiency
Efficiency between 1.6 and 2.4kgO2/kWh depending on operation conditions.
Power Ranging from 2.2kW – 55kW